It wasn't the usual tree lighting. Thirty people, all socially distant, gathered around the tree. Others parked across the street at Gibson McKean Real Estate, Clancy's and Clobr and listened to the celebration on their car radios. Others stayed at home and watched the 15th annual tree lighting on the Greater Barryville Chamber of Commerce Facebook page. The festivities took place on Saturday, December 5.
At center stage was the 35-foot fir tree, planted in 2005 in the cul-de-sac at the Barryville river access area. Co-sponsor WJFF Radio Catskill, the area's NPR public radio station, streamed the event on-air.
Rev. Charles Perez, pastor of the Barryville Methodist Church, and his family filled the air with sounds of joy, hope and brotherhood. Broadway stars Erin West and Kyle Dean Massey emceed the event and sang duets. Brett Shaggy Travis belted out rockin' holiday tunes for those who sought relief from this winter's pressing but necessary need for social distancing.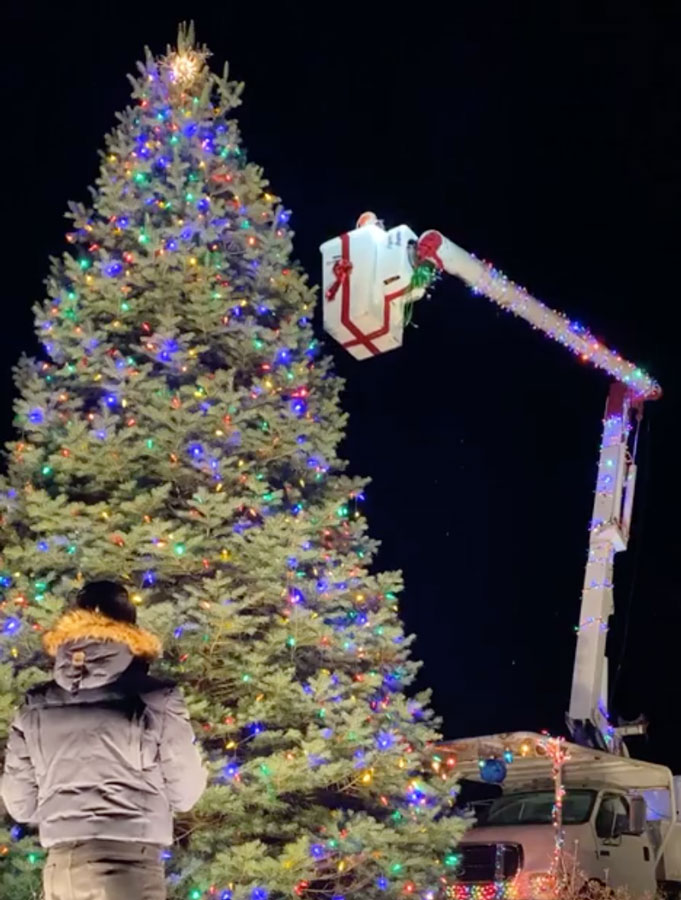 "We wanted to make sure that there was some safe holiday joy we could bring to our community. I contacted WJFF with the idea of a drive up, virtual tree lighting, and they were very supportive and excited about it. Roswel Hamrick, the Greater Barryville Chamber of Commerce president and head of all things beautification and decorating, replaced all of the white lights with colored lights to make it a bit more vibrant and jolly. Kyle and Erin, along with Shaggy and Pastor Charles, were more than happy to host and perform. It was really so wonderful and took a village—or a hamlet, really." said Johnny Pizzolato, who serves on the chamber's board.
If you missed the event, you can replay it anytime, courtesy of the pandemic.
Watch the festivities on Facebook »
Story provided by The River Reporter