CALL TO ARTISTS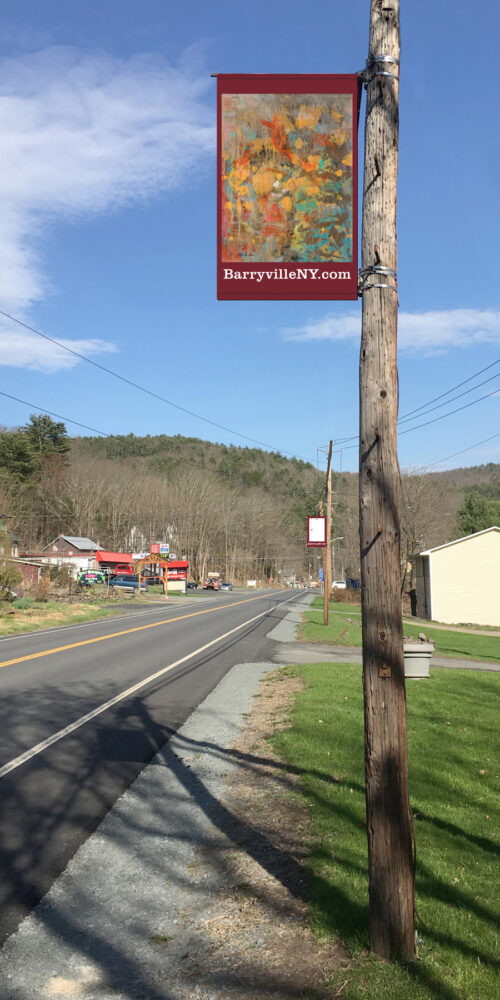 The Greater Barryville Chamber of Commerce is seeking artist submissions to replace the current "Barryville Banners on the Byway" along the scenic river corridor on NYS Route 97 in Barryville, NY.
This is an opportunity to immortalize your artwork along the Upper Delaware Scenic Byway where residents and 300,000-400,000 visitors traverse year-round.
There will be 20 banners in all. Each selected artwork will grace two-sides of a single banner.
Each banner will be part of an art show that will dually be exhibited online on the "Barryville Banners on the Byway" page on BarryvilleNY.com, where an image of the artwork, title, artist's name, and link to the artist's website will appear.
The artwork should fit the theme of being: "Emergence"
We suggest that artists submit works of art that are identifiable from a distance. As the banners will hang about 10 ft above the ground and will be seen mostly by passersby on bicycles and cars. Works may be representational, suggestive or abstract. Suggested mediums are photography, painting, drawing, mixed-media, or other.
Submission Deadline: Friday, July 7, 2023
Applications & Submission Requirements >>
If the juried artwork is selected for a banner, a $50 fee will be required from each selected artist's piece to help assist with the banner printing and promotion of the "Barryville Banners on the Byway" Art Project.
View Current Artist Banners >>
Interested in Becoming a Banner Sponsor?
If you would like to sponsor a banner as an individual or business, please contact GBCC at info@barryvilleny.com to discuss levels of opportunities.